Sexual rights and sexual risks among online youth
October 30, 2015
Young people, sexual rights and the internet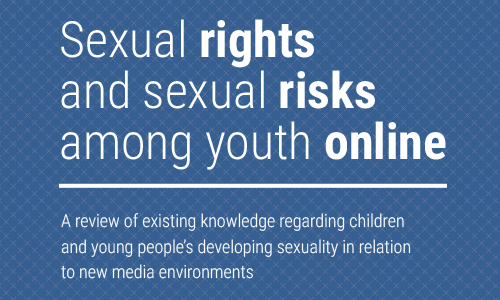 eNACSO commissioned LSE's Professor Sonia Livingstone and colleague Jessica Mason to review current knowledge about children and young people's developing sexuality in relation to new media environments.
This desk review represents a first step in eNACSO's endeavour to better understand the opportunities and risks that children and young people might encounter online when exploring their sexuality.
It will serve as a basis for developing evidence-based recommendations to key stakeholders on what might constitute a holistic approach and what measures need to be taken to ensure that children and young people fully benefit from opportunities, that they are empowered and that they are protected from risks.
In developing these recommendations, we will engage with children to hear their views and learn from their experiences.
To develop the insights, findings and recommendations produced by desk literature review Sexual rights and sexual risks among online youth, it was proposed that children and young people were consulted. The proposal to consult children directly is premised on the view that it is imperative to recognise and provide for young people as developing sexual beings with sexual curiosity, a need for knowledge and the right to expression.
The evidence reviewed in the report makes it clear that young people will seek out such opportunities and, if appropriate resources are not accessible, the results can be problematic. Also problematic is the evidence, more sparse yet present, showing that such resources as do exist online are often insufficient or even problematic, making it all the more urgent that constructive resources and opportunities are provided for young people. Last, the report demonstrates that as young people go online at a time of developing sexual interest and identity, they are encountering a host of problems for which they are often unprepared. Providing the resources and tools to ensure their adequate protection is also a societal imperative.
That's how Focus Groups in 7 different countries have been implemented with the aim to explore the following areas:
Sexual health/sex education and information-seeking online.
The source of information and its credibility (it is uncertain which online sources youth are using, how they judge credibility, and whether or not they see pornography as a reliable source of information about sex).
What types of information youth want and seek about sex, health and relationships.
What role parents, schools and online resources play in informing young people, and if these latter give priority to the use of a particular source.
Four focus group interviews in each country have been organized:
in each country: a group of younger girls (preferably aged approximately 10-11) and older girls (aged approximately 14-15), and a group of younger boys (aged 10-11) and older boys (aged 14-15);
the countries involved were representative for eNACSO space and be relevant for the EU space, i.e. a reasonable geographical coverage must be ensured (Northern, Southern, Eastern Europe)
The organizations involved were:
Save the Children Italy
Save the Children Norway
Save the Children Finland
For Adolescent Health, Greece
Empowering Children Foundation, Poland
Paramos Vaikams Centras, Lithuania
A detailed and comprehensive final General Report can be downloaded here below.