Safer Internet Day 2016 – 'Play your part for a better internet'
January 31, 2016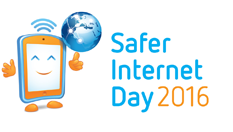 Safer Internet Day 2016
is celebrated globally today, on Tuesday 9th February with the slogan 'Play your part for a better internet'.
The celebration sees hundreds of organisations get involved to help promote the safe, responsible and positive use of digital technology for children and young people.
Also eNACSO Network plays its part for a better internet!
See below or

check out the full

map to see the activities planned for #SID2016 by eNACSO Partners!
Child Focus – Belgium
On the occasion of Safer Internet Day 2016, Child Focus, the national coordinator in Belgium, has decided to launch an online awareness-raising campaign targeting teenagers.
This year the campaign focuses on a new phenomenon called 'sextortion', an upcoming issue where teens are meeting a new 'hot' contact online and are quickly asked to get undressed in front of their webcam if they want to see more of their new friend… unfortunately, once the video has been made, the teenager is asked to pay a large amount of money or the video will be shared amongst his or her friends and family. Unfortunately, the blackmailing does not stop even if the payment is made.
As a rather new and unknown phenomenon, Child Focus wants to inform the public and raise awareness on this issue. Through a short yet light-hearted video, young people will understand the motives and criminal aspects of the matter. Furthermore, teens can test 'how sextortion proof' they are through two online tests that Child Focus developed on chatting with strangers (Qui est-ce?/Wie is het?) and on sexuality (Webslet).
To empower youngsters to take control of their own online privacy, Child Focus is going to give away 3,000 webcam covers. Teens are invited to order one through their school or organisation. Child Focus will also distribute this covers through its local partners.
Teens are already aware of the online risks: Child Focus developed a decision tree to help them make the right decision. This can be downloaded directly from the organization'website www.clicksafe.be . During the SID, Child Focus is going also to give out a lot of tips and tricks regarding prevention and what to do if they are the victim of such a crime.
Save the Children Finland
On the occasion of Safer Internet Day 2016, Save the Children Finland (SCF) shares the translated iRights video https://www.youtube.com/watch?v=sYM9LWJlOMs on its social media channels. They focus on the second iRight, the Right to know, by sharing information about this right on our social media channels (Twitter, Facebook, Instagram, Periscope). SCF volunteers and employees are also discussing iRights in Heimo Community
(https://medium.com/heimo-stories/uusi-yhteisöpalvelu-heimo-tehty-suurella-3e81bd4d4104#.itf83k172).
Safer Internet Day is part of the Media Literacy Week in Finland. Today, SCF released the translated iRights-video.
Through the week they focus on one iRight per day. They also share the translated "Right to choose online"-flyer (http://www.pelastakaalapset.fi/@Bin/3758014/%28FINLAND%29+child+friendly+copy+%282%29.pdf).
Kanner Jugendtelefon-Luxembourg
In Luxembourg, as a partner of BEE SECURE Kanner Jugendtelefon (KJT) participates at a big "#DigiRallye "with different workshops organised by BEE SECURE(KJT operates the Help- and Stopline).
In the frame of this rally, KJT organises a workshop about Bullying and Cyberbullying.
KJT works with a "violence barometer" to make young people aware about perception of violence and the individual differences. Everybody has his or her own limits that must be respected. As we do not always know the limit of the other persons, we must be careful. The respect to another person should be used as much in real life as in digital life. KJT uses different mobbing/cybermobbing situations to confront everyone with their own limits and with those of the others. The goal of this activity is to make young people think before they act, to show that they are responsible for their acts (if you don't like it, your colleague will probably not like it neither) and to prevent violence (mobbing/cybermobbing).
Beside, KJT organises a press conference to present our new poster of the BEE SECURE Help- and Stopline KJT has been also invited from the school radio station "Campus Geeseknäppchen" (LMRL) for an interview about Safer Internet Day streamed at the national radio station "Radio Ara".
KJT participates at the Insafe Thunderclap campaign.
Please find below a link leading to all the SID Activities in Luxembourg: https://www.beesecure.lu/de/saferinternetday2016
Obrela -Greece
Obrela organizes a day event at Athens University.
The highlighted speech is on the rights of the child and eNACSO goals.
Save the Children Italy
On the occasion of Safer Internet Day 2016, the Italian Ministry of Education, Universities and Research launches a campaign against cyberbullying during an event organised at Palladium Theater in Rome.  Save the Children Italy get involved in the event by distributing to all the attendees the Italian version of the child friendly report "Your Right to Choose Online"
http://www.enacso.eu/wp-content/uploads/2015/10/Child-Friendly-Italian1.pdf